NYPD PRECINCTS TO SEE CANDLELIGHT VIGILS ON MAY 13 FOR NATIONAL POLICE WEEK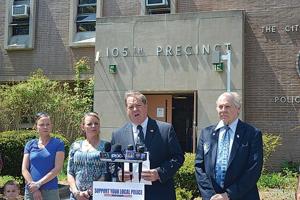 A long-planned press conference outside the NYPD's 105th Precinct on Monday was tinged with tragic coincidence after Officer Brian Moore of the 105th was shot on Saturday evening.
Though no one present knew for certain, the 25-year-old officer had died shortly after the start of Monday's gathering, which marked a call for a citywide outpouring of support for police on May 13 to commemorate National Police Week.
"In 2014, 117 police officers died in the line of duty in this country," said Joseph Concannon, a retired NYPD captain behind the effort.
National Police Week, which runs May 11 through May 17, centers around honoring fallen law enforcement officers. There are also ceremonies in Washington, DC, honoring cops from around the country for acts of heroism in the past year.
In New York City, organizers are asking residents to show up at their precincts at 8:30 p.m. Come sundown, there will be candlelight vigils honoring the officers in 2014 who would never return home at end of shift.
"Wear something blue," Concannon requested.
All 16 NYPD precincts in Queens can be located online at nyc.gov/html/nypd/html/home/precincts.shtml.
Four from the NYPD's 103rd Precinct — rookies Kenneth Healey, Joseph Meeker, Peter Rivera and Taylor Kraft — are scheduled to be in Washington to be honored as a result of the hatchet attack they suffered last October. Healey still is recovering from his injuries.
Ceremonies in the nation's capital in May 2016 now also will honor Brian Moore.
Concannon, a Republican candidate for the City Council from Queens in 2013, said the vast number of city residents are supportive of the police.
He said officers in New York and across the country are largely victims of a smear campaign by anti-cop activists.
And he said that in New York City, that message comes from Mayor de Blasio himself.
"You have a mayor who has given professional agitators free license to close down bridges, close tunnels and block the streets," he said. "All while chanting, 'What do we want? Dead cops!'"
The Mayor's Office did not reply to a request for comment.
Concannon cited the Rev. Al Sharpton as the poster child for unrest that erupted in New York, Ferguson, Mo., and, most recently, Baltimore following the deaths of black men at the hands of police.
"You have people who come in, speak their narrative, walk away and then the town is left in ashes," he said.
He called for a national boycott of the city of Baltimore following the filing of criminal charges against six police officers last week in the death of Freddie Gray, who died, Maryland officials say, as the result of a spinal injury he sustained in police custody after being arrested on April 12.
Concannon accused Maryland officials of charging the officers based on political rather than legal concerns.